Savoy Engineering Group
Phone: (801) 949-5337
Load Calculations - 100% Manual J & Manual D PASS RATE on 5000+ projects with numerous Permit Offices, LEED, HERSRaters, Energy Star and Build Green projects throughout the United States since 2005. 3-DAY, 5-DAY & 10-DAY Turnaround.
Certified WrightSoft HVAC Designers.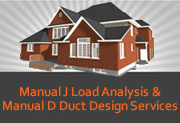 Shop Drawings, Inc
Phone: 800-866-DRAW
Provides Detailed Fabrication Drawings for Ductwork as well as Coordination Drawings for Plumbing, H.V.A.C. Piping, Ductwork, Sprinkler and Electrical Systems. We coordinate with collision check capabilities and provide adequate section details for a complete multi-color drawing.